Crypto OTC
Buy or Sell Your Cryptocurrency With a Licensed Bank
Why Choose EQIBank
EQIBank is the easiest place to buy and sell cryptocurrency. Create your cryptocurrency portfolio today with a Licensed and Regulated Bank. We offer Trading, Custody, Loans, and Investments. In addition, EQIBank's OTC team provides insights, and expert assistance to help you navigate the complicated world of crypto while ensuring your assets are always safe and secure.
Trusted & Licensed
We provide more financial solutions to more countries than any other digital bank. We are the World's First Licenced and Regulated Bank for National Currencies and Crypto.
Efficient & Convenient
We are globally accessible, safe, cloud-based, mobile-centric, offshore & tax-free, and available 24/7 with transparent and competitive pricing.
A Wealth of Services
We offer our valued Customers: Bank Accounts, Hybrid Credit Cards, Wealth Management Solutions, Custom Lending and Custody Services, and Digital Asset Exchange Services.
EQIBank's OTC
Benefits
FULLY LICENSED
SEAMLESS CRYPTO/FIAT FACILITIES
EASY ACCESS TO THE MARKET
SINGLE ONBOARDING PROCESS
ACCESS TO BANKING
KYC, AML & COMPLIANCE
INSTANT TRANSFER FUNCTIONALITY
24 HOUR ASSISTANCE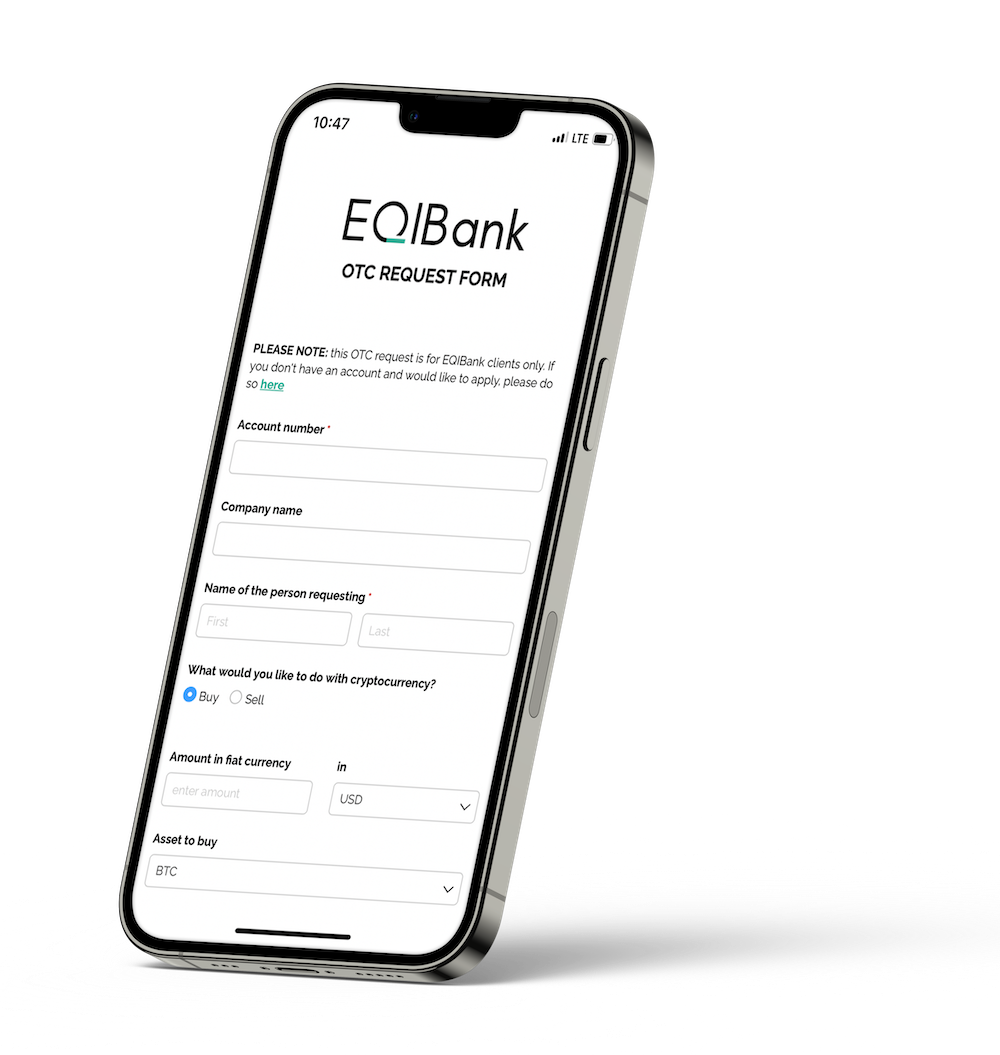 Buy or Sell Your Crypto With a Licensed Bank
OTC for Individuals
EQIBank provides seamless crypto-fiat facilities for individuals. Open an account with EQIBank and get access to the top 20 currencies, 24 hour service and easy deposits and withdrawals
apply now >
OTC for Corporations
EQIBank is your ideal solution for all your digital asset needs as a regulated and offshore institution. Working in partnership with top liquidity providers, we offer easy access to the market and 24/7 assistance should you require our expert advice.
apply now >
Invest in Cryptocurrency with EQIBank