Business Banking
From preferential pricing to a 24-hour global banking, you'll have the privileges of priority banking services, in over 180 countries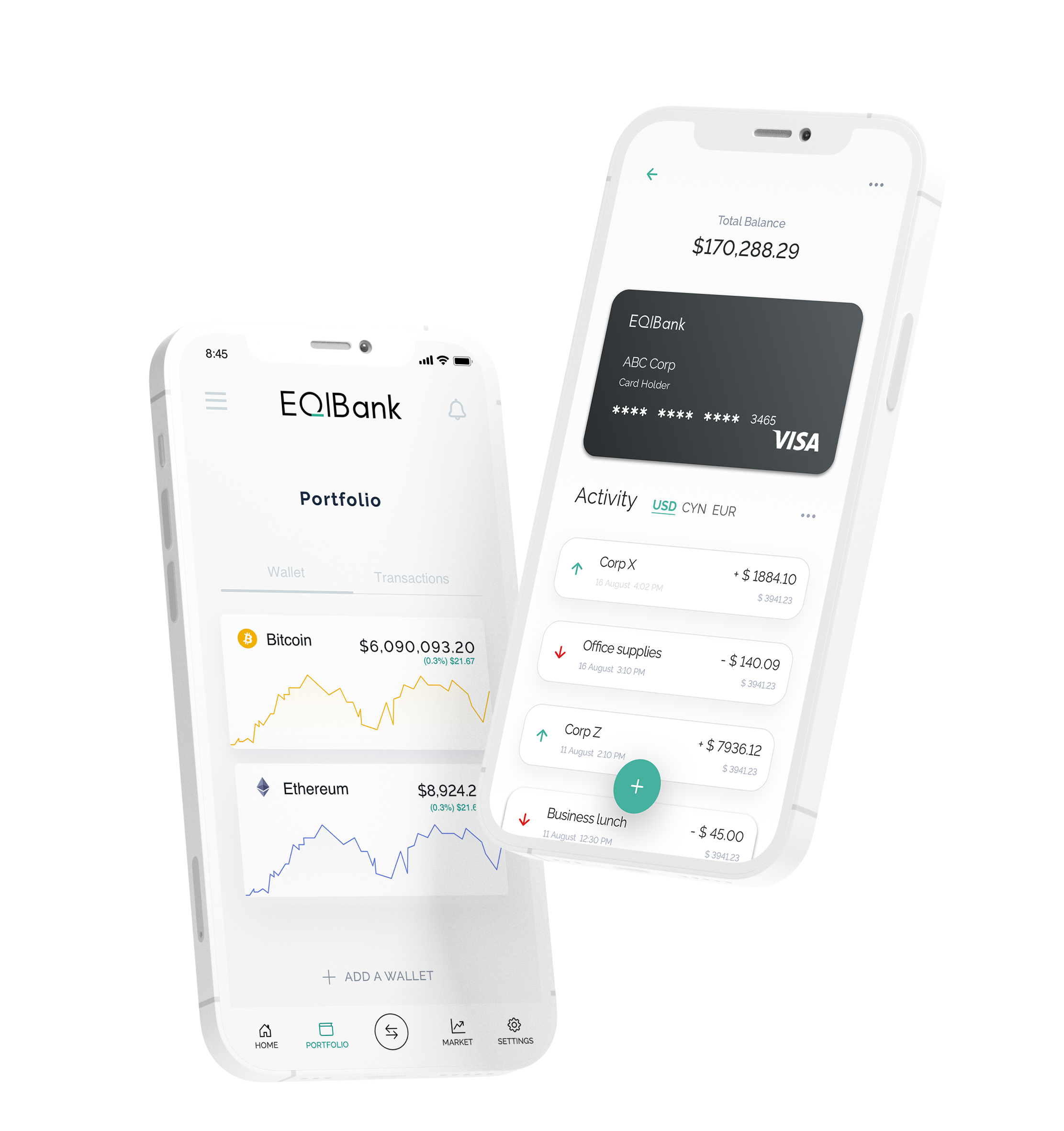 Lending and Trade Account
Available to 180 countries
Multiple currency options
We believe in offering all our business customers an expert and personal level of service. From small companies to global corporates, our EQIBank Corporate Relationship Managers will get to know your needs.

EQIBank's Business Current Account provides the flexibility of digital banking, while empowering you with fast, secure and customized solutions, designed to offer unique advantages, saving both money and time. Available in a range of currencies, our business customers benefit from EQIBank's extensive international payment and foreign exchange services ensuring your international trade finance needs are managed efficiently and competitively.

Fully accessible through EQIBank's Online and Mobile app, the EQIBank Business Current Account allows for instant money management, enabling you to view accounts, transfer funds and make payments. With secure messaging, our business customers can interact promptly with their banker and conveniently attach files without the need for further encryption.

The EQIBank Business Account is accompanied by the EQIBank Debit Card, allowing you to optimize all your personal and corporate financial procedures: payroll, employee benefits, incentives, expense accounts, and other payouts, when you want and how you want.
EQIBank's secure Business Deposit Account is an instant access deposit account and is underpinned by innovative and incomparable delivery. Interest, at a variable rate set by EQIBank, is paid six-monthly or upon withdrawal of the deposit.

EQIBank's Business Deposit Account is an instant access deposit account, so your business funds are always within reach. With no minimum and no maximum balance required and instant access to your funds, this Account is one of the most flexible deposit accounts available.

EQIBank can also assist with multi-currency options that help protect against adverse foreign exchange movements, enabling your business to and take advantage of the opportunity to earn interest on your surplus currency funds with our Currency Deposit Accounts.
Providing the guarantee of a pre-agreed rate of interest, EQIBank Fixed Term Deposits pay interest on deposits that are not required instantly. When depositing your funds with EQIBank, you can select from a variety of interest rates and term limits. At certain stages in the growth of your business you may find that you have a considerable sum of money to add to your savings. If you have a lump sum to save and you know that you can put it away for a fixed term, then you can benefit from the security of a fixed rate of interest. When you open an EQIBank Fixed Term Deposit Account, the prevailing rate of interest will be applied to the Account and fixed for the term of the deposit. Interest is paid into the Account at the end of the term. Where the Account has a term in excess of one year, interest can also be paid annually on the anniversary date. You can choose a 12 month, 18 month or 2 year term or a bespoke period in conjunction with your EQIBank Relationship Manager. You may not withdraw your funds prior to maturity. If your business may need more frequent access to funds, this account may not be the most suitable for you.
APPLY TODAY
Ready for a Better Banking Experience?
It only takes a few minutes to get started