Borrowing
At EQIBank we can provide financing against a wide range of assets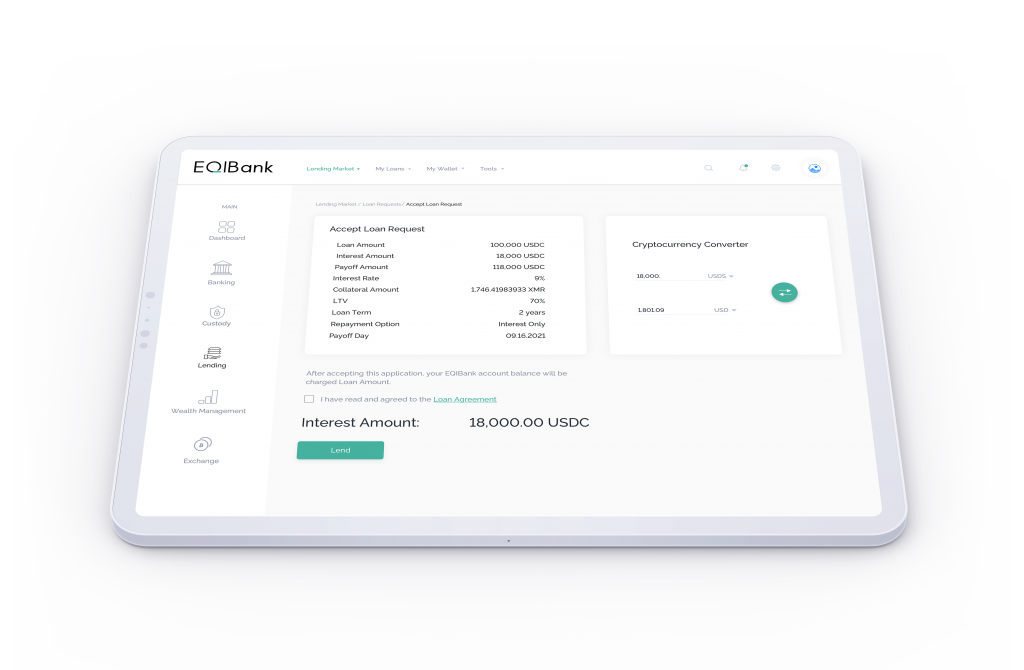 Years track record across Global markets
Billion USD in cumulative disbursements
EQIBank offers a modern approach to borrowing or investing your money and provides a wide range of services for every occasion.
Having access to short, medium, or long-term capital is fundamental to every private client or business. EQIBank can structure solutions tailored to your unique circumstances. From providing lending for corporate expansion or personal needs, utilizing our expertise with digital assets and alternative securities, or working cross-border to bridge a vital lending requirement, we pride ourselves on providing a solution that is right for you.
Listed Securities Finance
At EQIBank, we offer financing secured on Listed Securities. Using your marketable securities to meet short-term liquidity needs helps pave the way to accomplishing your overall wealth management plans while keeping your long-term investment strategy intact.
Cryptocurrency Finance
Rather than selling, EQIBank clients can use their cryptocurrencies as collateral towards a cryptocurrency-backed loan. This allows them to maintain ownership of their funds while gaining access to the USD they require. We offer loans of up to 36 months on a variety of leading cryptocurrencies.
Working Capital Finance
Our Working Capital Finance solutions are designed to enable businesses to quickly access and unlock liquidity. This improves flexibility within trade flows and operates efficient working capital cycles.
Yacht and Aircraft Finance
We provide competitive loans for both personal and business jets and yachts. If you own an aircraft or yacht, you could leverage against it in the same way you would other physical assets.
Supply Chain Finance
Supply chain finance is a working capital optimization tool. SCF programs help align the needs of both buyers and suppliers and minimize risk across the supply chain. EQIBank offers clients Pre-Shipment Finance, Purchase Order (PO) Finance, Non-Recourse Accounts Receivables Finance, and Inventory Finance.
Bespoke Lending
EQIBank understands that clients require a bank that is adaptable enough to assist with changing and evolving needs. Whether you require a corporate facility for expansion or want to borrow against an investment portfolio, we may be able to arrange credit secured against a range of asset types to meet your requirements. EQIBank advisers will work closely with you to understand your lending objectives and offer sophisticated solutions to realize your goals.
APPLY TODAY
Ready for a Better Banking Experience?
It only takes a few minutes to get started